On the back of

my last post

about my skin, it's behaving much better now, (

Hurray!

) so I thought I would do a quick skin care review. As I mentioned, I've gone back to using Purity and genuinely feel like it has worked some magic on my face :]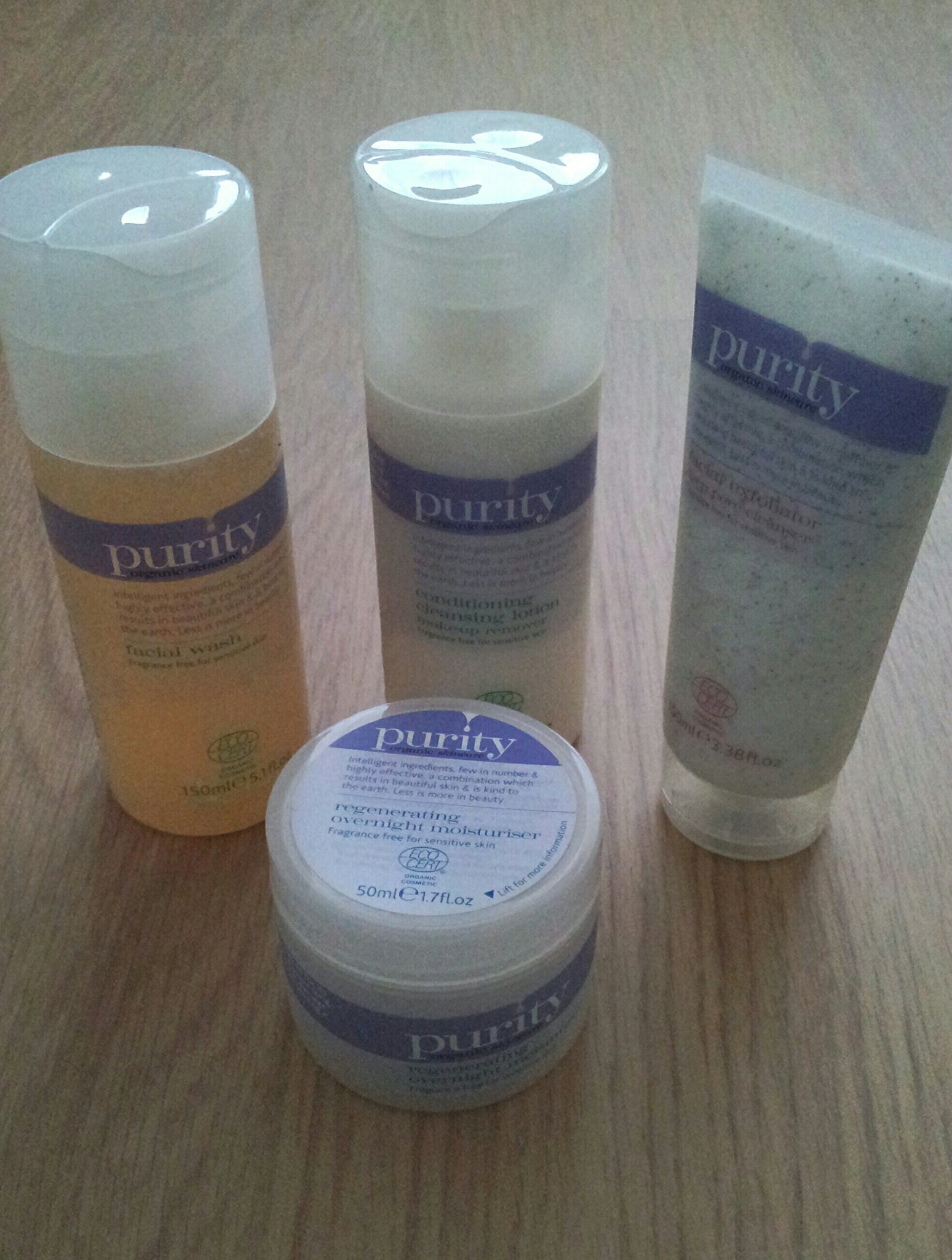 From Left to Right : Facial Wash, Cleansing Lotion, Exfoliator & Overnight Moisturiser
All the products are organic, fragrance free and not tested on animals, an awesome trio to look for in beauty products. The pricing is extremely reasonable too, you can find it all on the website, just Google 'Purity Skincare'. I got the cleanser, face wash and night moisturiser for £15
(

before tax/postage

), which is the price you can end up paying for a single fancy high end product. They also very kindly popped in an exfoliator, which was a lovely surprise!
So now, of an evening I massage my face with the conditioning cleansing lotion to break up the makeup, wipe it away with damp cotton pads, and wash my face with a little bit of the facial wash. The cleansing lotion is so gentle, and feels really moisturising. Sometimes if my skin is dry or I'm wearing more make up, I'll just cleanse twice with the lotion instead of using the face wash after a single cleanse.

Then I apply an ample amount of the regenerating overnight moisturiser, which is the best night time face treat. It has a nice, thick consistency making it feel lovely and nourishing, and your skin definitely feels a hell of a lot softer and smoother in the morning.
Then when I wake up, all I do is wash with the face wash, which doesn't feel stripping or drying. There's nothing worse than using a face wash that makes your face feel like it's going to split in two if you smile!
That's pretty much it :] very s
imple.
I use the facial exfoliator about twice a week. At the minute, my cheeks are still sensitive because of outbreaks, so this exfoliator is gentle enough to use on those areas. The little chunks of walnut are in a thin, creamy liquid, so it isn't a harsh abrasion, just enough to feel like you're getting the dead skin and grime off.
Sadly the day moisturiser was out of stock, but once I get my mitts on it I'll let you know how I get on with that.
So this is the main chunk of my skin care after my acne break out, and it has really helped.
If you've got any more tips to help with skin I would very much love to hear them :]